Teaching Philosophy
My teaching philosophy has three main pillars: (1) transferring authority to students, (2) making myself available, and (3) viewing writing as a process.
On the first day of each semester, I tell my students not to see me as the ultimate authority on every subject but a facilitator to create a learning community. Moving beyond the traditional classroom where students just listen to the professor and take notes, I prefer transferring a portion of my authority to students. For instance, when I teach Introduction to Comparative Politics, I provide my students the option to pick the four countries we would cover during the second half of the course. Similarly, in my Latin American Politics class, I ask my students to form small groups and come up with possible exam questions. From a student-generated list, I pick three essay prompts and ask my students to answer two of them. Besides collaborating with my students to finalize the course outline and create exam questions, I allow them to use the classroom space freely. Instead of viewing the front of the classroom as my performance stage, I design in-class activities so that the students could stand up, move their chairs, and use the whiteboard to express themselves, most importantly, teach one another.
Another guiding principle of my teaching is being available inside and outside the classroom. To hold informal conversations with my students, I usually arrive in class 10-15 minutes early. While reviewing my daily lesson plans, I ask them about that week's soccer games or recent political developments. Once the class officially starts, I put extra effort to show my willingness to interact with students from diverse cultural, ethnic, and gender backgrounds. Especially, I aim to boost the self-confidence of students whose native language is not English. Having taught at Florida International University, the second largest Hispanic serving institution in the United States, I have had the first-hand experience of working with Spanish-speaking students who had fled difficult conditions in Venezuela, Colombia, Guatemala, and Honduras. In Spring 2018, I even had students who had to leave Puerto Rico following the devastation of Hurricane Maria. Inspired by T.J. Yosso's (2005) theory of cultural wealth, I have come to appreciate how demographic minorities possess their unique combination of social capital to achieve global learning outcomes. In that spirit, outside of the classroom, I highly value getting to know my students personally during my office hours, one-on-one conferences, and group meetings. Overall, I want my students to consider me as a resource to succeed in the course as well as their college life.
Thanks to my extensive training in best practices of inter-disciplinary pedagogy, in my classes, I conceptualize writing as a process. Rather than providing my students notoriously vague assignment instructions and expect them to submit a polished paper at the end of the semester, I make them go through a multi-draft process. This process-oriented approach pushes my students to think early about their major writing projects and submit at least two drafts before the final version. Incorporating feedback from me and their peers helps students grasp what the assignment is all about, make necessary revisions, and improve the quality of their text. Scaffolding major writing assignments also reduces student anxiety and minimizes attempts of plagiarism. In their reflective letters and anonymous feedback, I have seen evidence of how much my students benefit from these active-learning techniques that put them at the center and enable the acquisition of transferable skills.
Teaching Experience
Until now, I taught three political science courses and two first-year-writing courses as an instructor of record. I also served as teaching assistants to ten different courses.
During my four-year appointment in the political science program, I initially served as a teaching assistant to the following courses: Introduction to Comparative Politics, Authoritarians and Democrats, Politics of the Middle East, Politics of Latin America, Russian Politics, Politics of South America, Presidency, Political Parties, and American Government. After I passed my comprehensive exams, I taught CPO 2002-Introduction to Comparative Politics twice (Spring 2016 and Spring 2017) and CPO 4303-South American Politics (Fall 2016) once as an instructor of record.
In the fifth-year of my doctoral studies, I taught ENC 1101-Writing and Rhetoric I twice (Spring 2018 and Summer 2018) as an instructor of record. Currently, I am teaching ENC 1102-Writing and Rhetoric II, which is essentially a course on how to write an effective research paper.
Teaching Evaluations
Below, you will first find the students' overall assessment of my teaching in political science and first-year-writing courses (out of five).  Afterward, you can read a sample of qualitative student responses. Finally, you can read a detailed thank-a-professor submission by a student.
Quantitative Summary
Figure 1. Overall Assessment of Instructor for Political Science and English Courses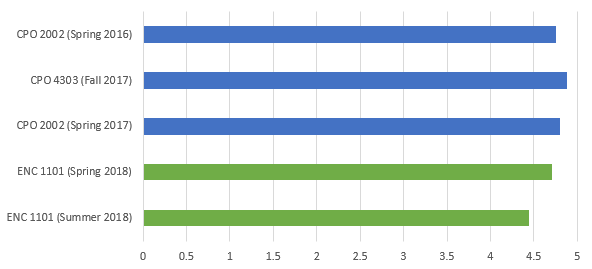 Sample of Qualitative Responses
-The professor is always well prepared for class. He has knowledge of the information and he is able to communicate effectively. He makes the class interesting by utilizing videos and activities. His teaching strategy has enabled me to do well in this class. I also like the he provides a study guide.
-Instructor followed syllabus completely, is extremely knowledgeable, and is very thorough. Provides reading that is applicable to class. Cares about teaching the information.
-Professor Selcuk is a very smart guy. He knows everything about every topic, and always had the right answer for the students. He is always worried about us, he responds fast to emails, and his classes are very interesting. Best professor ever!!
-Great! Very passionate, explains concept well, if you do not learn it is because you do not want to. Very funny and interactive, always willing to help.
-Truly enjoyed this class. The professor despite being a grad student was extremely knowledgeable and interesting!
-Honestly one of the greatest professors I've had. He is very open minded to the views of the students and is patient with everyone.
-Professor Orcun is a good instructor always giving good feedback to help you better your work for the final draft and a possible A in the future.
– I really enjoyed this course. However, I wish we would have done the case studies for the countries sooner in this course in order to learn more about them. Overall, I think you are a great professor and appreciate the fact that he actually cares to make sure you learn something and goes the extra mile to help you.
-He was an excellent teacher. He cares for your grade and wants to you learn and do well. He gives really good feedback on all the assignments that help you further your knowledge in order to improve your writing skills. Couldn't have gotten a better professor for my first semester at FIU.
-He's an awesome teacher and one I'm glad I chose to lecture me in ENC. He has improved my writing in many ways and has opened my eyes on many topics while also having a lot of fun in class.
-The professor has done a very good job teaching me. Since I have taken the class, I have gained much more knowledge about how to write effectively. This professor has taught me more about English than any previous English teacher. He has also taught me to have more confidence when I write.
-He is a very nice teacher that genuinely cares about the performance and grades of his students. Very patient and good at explaining every task. I learned a lot that will help me throughout my career in college.
Thank-a-Professor Submission
Dear Professor Selcuk,
The Center for the Advancement of Teaching (CAT) established a Thank-a-Prof program, so that students can express their gratitude for the important and difficult work you do.
A student from your Comparative Politics of South America course in Fall 2016 took the time to write,
"I want to thank this instructor because his influence inspired me to take on an incredible journey abroad in Ecuador which was one of countries I learned about in class. Mr. Selcuk became my mentor during Fall semester as I grew incredibly interested in the region of study as well as his focus within that region; Populism and Democratization. After a simple meeting regarding the final paper for his class, Mr. Selcuk inspired me to follow my interests in indigenous studies and investigate about indigenous political movements and their origins in both Ecuador and Bolivia. This led me to a world of information and passion towards the subject, and inspired me to apply to an international exchange in Ecuador the following Fall semester. Going through the application process for that program, I went back to Mr. Selcuk for guidance and ended up drafting an independent research proposal for myself to carry out while abroad. This allowed me to propose a detailed on-the-ground study about the roots of Ecuadorian indigenous political identities and their mobilization during the post-imperial period in comparison to its vivacity during the implementation of neoliberalism under democratic transition and how this has and continues to affect state formation and consolidation in Ecuador under the new constitution passed in 2008.
Because of the guidance and support Mr. Selcuk provided me with, I was able not only to study abroad at an incredible location, but I was also compelled to follow my dreams of creating and writing my own research in the field of comparative politics and further my interests in Indigenous Studies. I now aim to pursue a PhD in Indigenous and Postcolonial studies as I will be graduating this following semester. I am forever thankful to have such an incredible and inspiring mentor, as well as a passionate scholar to guide my future research interests and critique my development as a student in the field of political science.
I strongly believe Mr. Selcuk is an impactful and valuable asset to Florida International University."
We want to congratulate you, and add our thanks to your student's. Your important work in the classroom is fundamental to FIU's ability to offer our students the education they deserve. We applaud your dedication to your students' learning and hope we'll be able to continue working with you in the years to come.
Sincerely,
Isis Artze-Vega, Ed.D.
Assistant Vice President, Teaching & Learning
Office of the Provost and Executive Vice President
Florida International University
Sample Syllabi
CPO 2002-Introduction to Comparative Politics
CPO 3055-Authoritarians and Democrats
CPO 3304-Politics of Latin America